Unfinished
Andy Vogt
Krishna Khalsa
Scott Oliver
Curated by Emily Sevier
February 2nd – March 10th, 2007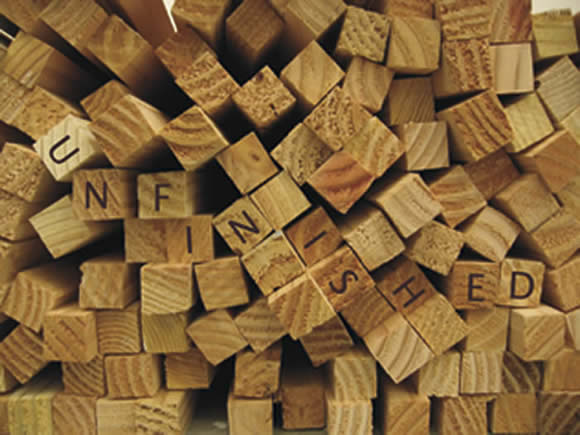 The three artists in Unfinished, Andy Vogt, Krishna Khalsa, and Scott Oliver, share an obvious connection in their use of raw and recycled wood as a primary sculptural material. There is a deceptively simple elegance to each of their works. Without extraneous color or embellishment, the artists draw attention to the inherent sophistication of the material at hand, transforming scrap wood or thrift store furniture into commanding sculptural objects. The success of their efforts is reliant on each artist's painstaking attention to craft. Vogt and Oliver's work is exacting, both employ the fine woodworking techniques of a furniture maker to repurpose found material. Khalsa's work is rougher, though none-the-less meticulous in the stacking of miniature wood blocks to form towering walls.
With each of these artists, scavenged material is altered to create a new perception of space and reform the interaction with one's surroundings. Mundane and disposable objects are made unique, elevated to the realm of the hand-crafted art object. The title of the show, Unfinished, rather than referring to the state of work, references the simplicity of the unadorned wood and the process the artists use in reviving used materials, separating them from their original purpose and giving them a new finish.
Andy Vogt's main material is salvaged plaster lath, the wooden strips embedded in the walls of old houses. He cuts and joins the lath to create two and three dimensional sculptures and installations, highlighting the variations in color, texture and thickness in the recycled wood. Using the lath with the precision of technical drawing and architectural models, Vogt plays with the idea of perspective and implied volume often invoking natural forms to contrast the natural with the manmade.
Krishna Khalsa uses materials in repetition to create large-scale structural objects. Her materials range from toothpicks to cut-up wood pallets. In designing her pieces, Khalsa considers the way in which space is perceived and navigated, creating unconventionally ordered passageways and constrained spaces that the viewer is forced to pass through. While the spaces are generally confined, the walls are semi-transparent, resulting in a space that is simultaneously restrictive and permeable.
Scott Oliver's work begins with used furniture and other found objects, which are transformed from familiar into uncanny new forms. Within each of Oliver's works, craft is of utmost importance, countering the relative "disposability" of the mass produced items he began with. By altering these objects, Oliver removes their everyday meaning tied to function or fashion and causes the viewer to consider their materiality along with their cultural and psychological significance.