Mark V. Mark
Video and Photography
Mark Lee Morris
April 21st - May 20th, 2006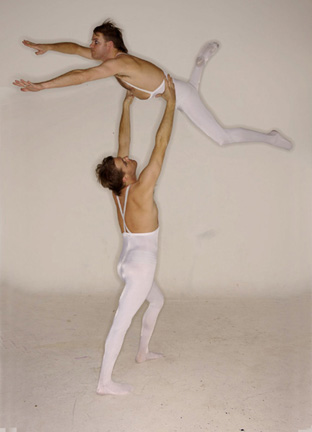 In this body of new photographic and video work, Mark Lee Morris tackles identity and the psychology of self-reflection, by depicting himself in multiplicity as his own opponent, partner, witness, lover, or some combination thereof.
In two videos, he employs the conventions of the television game show to compete against himself – one involving an attempt to win a date with himself. The videos are absurd send ups, which mock the artificial enthusiasm of television and degenerate at times into crude obscenities. But this ridiculousness is simultaneously piognant as a study in disappointment, shame, and limitation.
In a third video, Morris competes with himself in a poker match, bluffing himself, trying to read his own expression, and narrating the drama of the game in a voice-over. The piece begs the question, "Where is the locus of identity?" Through body language, the players stage the diverse attitudes we adopt towards ourselves, and confirm that at least part of our character is inherently unchangeable.
And in a series of photographs, Morris attempts to capture the grace and movement of a professional dancer. Again, he depicts himself in multiplicity in several poses: Mark lifting Mark, Mark catching Mark, Mark balancing Mark. He plays his own counterpart, his equal, his safety, and his own crowd to get lost in. Is this self-consciousness or merely narcissism as its substitute?