THE MAN BEHIND THE CURTAIN
June 5 - July 18, 2009
Opening Reception: June 5th, 6-9 pm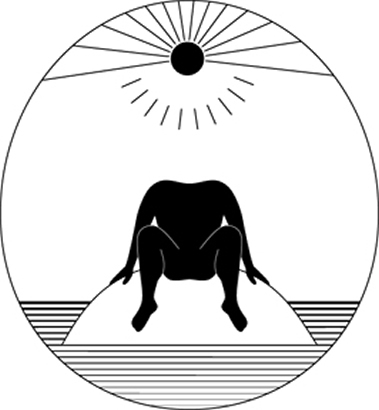 Headless illustration is by Johan Hjerpe for Goldin+Senneby
Projects:
Goldin+Senneby, Stockholm: with Kate Cooper, K.D., Johan Hjerpe, Richard John Jones
Seth Lower, San Francisco
Société Réaliste, Paris
Curated by Laura Mott, Assistant Director/ Curator
Recent Press:
Art In America by Joseph del Pesco
SFMoMA Blog by Kevin Killian
Shotgun Review by Matthew Rana
Press Release:
From our early childhood lesson about "The Great and Powerful Oz" to the damaging falsehood of "Weapons of Mass Destruction," we go through our lives surrounded by pretense and deceit. The artists in this exhibition confront real-life artifices—an offshore company, a secret society, an Internet scam, a faked death—and, in the face of them, take on the roles of investigator and vigilante. These artifices are nebulous constructs that rely on misdirection; subsequently, they are fertile ground for play, mischief, and intervention. Part of their ingenuity is the cunning use of design and the staging of authenticity. As both a rebuke and a backhanded tribute, the artists mimic the same tactics in their modes of creation. However, there are very real consequences when these deceptions succeed; their gain means someone has to lose. Together, the artists' projects offer a reversal of victimhood and we enter the work through the vicarious role of a provocateur.
Swedish artist collaborative Goldin+Senneby present the most recent incarnation of their project Headless (2007-ongoing), in which they investigate an undisclosed offshore company in the Bahamas called Headless Ltd. The project appropriates a dubious corporate model and much of its production is outsourced to both fictive and real agents. An ongoing novel by fictional author K.D., links Headless Ltd. with a secret society known as Acéphale (from the Greek a-cephalus, meaning "headless") founded by George Bataille in the late 1930s. Also on view is a three-part documentary by filmmakers Kate Cooper and Richard John Jones that examines the juridical structure of the Headless Ltd. and some of the key players in the project. The documentary will be screened in sequential installments according to the following calendar: Installment #1, June 5-20; Installment #2, June 21-July 4; Installment #3, July 5-11.
We have two primary identities: the one officially authorized by legal documentation and the one comprised of our actions and predilections that we call "self". San Francisco-based artist Seth Lower's project concerns a fraud of elaborate staging that encapsulated both. His installation is the result of his travels to rural Texas to investigate the fake death of Clayton Wayne Daniels: a strange story of exhumed bodies, forged documents, law enforcement, private investigators, and Lynard Skynard's song Free Bird.
At MISSION 17, Paris-based collective Société Réaliste presents The San Francisco EU Green Card Lottery Registration Office, where visitors can apply for EU citizenship through a website. This interface is an imitation of a "parasite" website, designed to con migrant workers who are applying to the U.S. Green Card Lottery system and charge them a fee for a service that is actually complimentary. This project brings to the forefront how people are deceived through the presentation of legitimacy, and how the effects can be exacerbated when there are high stakes—for instance, liberty and the pursuit of happiness.
Gallery Hours: Wednesday - Saturday, 1-6pm or by appointment