Amidst the Ruins
New Works by Val Britton, Michael Damm, and Zachary Royer Scholz
Curated by Taro Hattori
March 14-April 12, 2008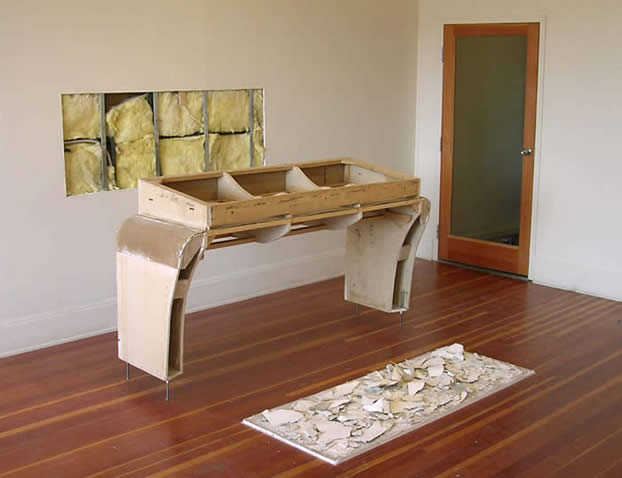 Zachary Royer Scholz, Object 60759208 (wood, metal, insulation, dry wall, paint, tape), installation view
MISSION 17 presents Amidst the Ruins, an exhibition of new works by Val Britton, Michael Damm and Zachary Royer Scholz, which explore how destruction provokes artists' creativity. What motivates us to disassemble or destroy things? Why is it pleasurable to deface? How does violence transform our relationships to objects? And what does it reveal about their mechanisms and meanings? Works by these three artists ruin the surfaces of objects to thematize the contexts in which they appear, and to turn them towards new ends. The figures of destruction produced by these artists imply and explore our situation between birth and death, and presents these poles not merely as opposites, but rather as convolutedly twined and mutually integral to processes of creation.
Val Britton creates immersive collages with large sheets of slashed paper that approximate and, in the process, reinvent the language of maps. In the beginning stages of her process, she sketches out the highway routes once frequented by her deceased father, a truck driver who drove eighteen-wheelers cross country throughout his life. She then overwhelms the surfaces of the paper with the violence of her cutting and pasting, and the ensuing tears spill out of the sheets to produce objects that occupy a liminal space between two and three dimensions. The results are maps drawn with blades, but they depict the performance of their own production and the impulses that informed them, rather than any merely objective terrain. Three large-scale drawings from this body of work are on view.
Michael Damm's photographs and videos present amalgams of desolate imagery, which are both documentary and psychological. He finds the seeds of his work from devastation and decay in urban environments, and his discoveries evoke mnemonic associations that resonate with unanticipated meaning. In Amidst the Ruins, Damm exhibits a video projection Last house on the left (leaving Oakland), which is his close study of a derelect home on the border of Oakland. In addition, he has created an installation consisting of a variety of image sequences along an incision in the gallery's wall. This work is based on his observations of the once vital, now neglected, Southern Pacific Station train depot in Oakland.
Zachary Royer Scholz tears up and reconstructs pieces of furniture and elements of architecture. In the process he finds new significance in them and reveals a shifting flow of meanings beneath the otherwise statically defined frameworks of our involvements. In accordance with his practice to work collaboratively with the materials and spatial situations at hand, Scholz has created two new installations at MISSION 17 based on the architectural components and measurements of the gallery. The two structures he has brought into the gallery—which on close inspection are the skeletons of furniture—are conduits for setting up these relationships.